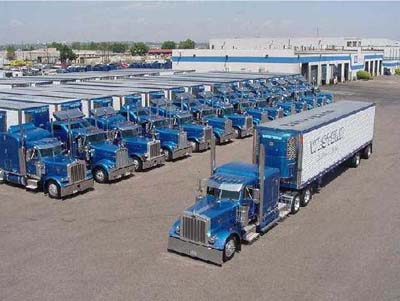 Starting Pay for OTR Drivers - Call for More Details

| Type | Rate | 2019 Average Income |
| --- | --- | --- |
| Solo | $0.38 cpm | $63,000 |
| Team | $0.52 cpm split | $155,200 split |
| Armored | $0.62 cpm split | $180,800 split |
| Local/Yard | Hourly/Mileage | $69,000 |
| End Dump | Percentage | $67,200 |
| Rollback | Percentage | $89,000 |
| Heavy Wrecker | Percentage | $130,000 |
| Landoll | Percentage | $76,500 |
| Courtesy Patrol | Hourly/Part Time | $28,000 |
Other Pay Notes
Paid PC Miler PRACTICAL Miles on ALL Miles - Loaded and Empty
$20 picks/drops after the first drop - miles paid in between drops
Layover/Breakdown Pay
Paid weekly - Every Friday - (Must turn in paperwork by Tue 10 am for Fri pay)
Lumpers paid upon turning in receipt
Motels: TEAMS 1st night, SOLOS 2nd night (Empty Layover Only)
Direct Deposit Available
Safety Bonus Paid Quarterly
Driver Referral Bonus
Owner Operators Welcome!!
$1.20 CPM + 100% FSC in rate of load to O/O - call for more details 303-294-3127
Please click here for a list of eligibility requirements.
We are currently taking applications for Local Drivers, Regional Drivers, Owner Operators, Armored, OTR, and Team driving positions at this time.
Reefer Hiring Areas For Solo Drivers
Colorado, Washington, California, Oregon, Southern Idaho, Nevada, Arizona, New Mexico, Oklahoma (West to Oklahoma City), Nebraska (Grand Island), Wyoming, Texas (Dallas/Ft. Worth), Montana (Along I-90 Corridor).
Interested/Questions - Call Our Main Line
800-922-2289
Western Distributing Transportation Corporation
Employment
Driving Opportunities & Careers
1-800-922-2289
Click here to learn more about our company!
Types
Solo - Longhaul
Team - Longhaul
Local/Regional
Shag/Yard
Towing
Rollback
Gravel
Lowboy/Equipment
Requirements
Minimum of 3 Years/300,000 Miles (Verifiable) OTR Driving Experience
Military Experience vs Mileage Experience Applicable
Good MVR/Safety Record + 25 years of age
Class A CDL
Reefer Experience Preferred
Must be able to Chain
See attachment for more details (Click Here)
Benefits
Medical
Dental
Vision
Prescription
Life Insurance - Company Sponsored
LTD - Company Sponsored
Supplemental Insurance Available - STD, Cancer, Accident and Additional Life - Coverage available for family members
401 K
Scholarship Program
Vacation
1 Year Svc = 2 Weeks
10 Years of Svc = 3 Weeks
20 Years of Svc = 4 Weeks
Western Perks
Been in business since 1933 - 18 Companies within the Corporation
Family owned private business
Assigned Trucks - No Slip Seating!
Clean Beautiful Equipment - Avg age of trucks 3.5 years, Trailers 5.5 years.
Peterbilt and Kenworth extended hood trucks make up 95% of fleet
Big HP motors 500+ Paccar/Cummins +18 spd tranny
Premium Interiors/Seats with Wood Steering Wheels, Fridges, Espar Heaters
At time of Truck replacement drivers are given 8-25 option choices in spec equipment - the more seniority the more options
All ThermoKing fleet
Air Ride Trucks and Trailers
Air Weigh units on Trailers - gauges on Tractors
Office Open Door Policy - Family Environment - known by a name not a number
Run on Virgin Tires NO RECAPS! Michelin and Bridgestone
Wings vs ugly heavy domes on top of trucks
Electronic Logs - no more paper!
Disc Brakes on all New Equipment
Wash Policy - Every Truck/Trailer must be washed at least 1x a week
TX Big Bumpers
All Aluminum Polished Wheels
Options to add Lights and Chrome per Policy Manual Guidelines